Recently, Curotec was ranked among the top three web design firms in Philadelphia according to the Manifest. Since 2010 Curotec has been providing results-oriented web development, technology consulting, and software integration services to a variety of firms in online retail, healthcare, life sciences, and financial technologies.
Curotec was featured as the most experienced Magento and E-Commerce Developer in Philadelphia in Clutch's Press Release of top B2B service providers based on 3rd party independent research performed by the DC-based research firm. Additionally, we were recognized as a leading top 10 web and software developer in similar categories by Clutch. Reviews from our clients on Clutch.co agree. According to the firm, Curotec is a five-star company that can meet all your software, web and e-commerce needs! Our portfolio of work includes building highly functional custom web apps, well designed and aesthetically pleasing websites, and user-friendly apps. All of our employees are passionate about the work we do and we pride ourselves on delivering high-value results for every project we work on. We would not have won these awards if it wasn't for the amazing team behind each and every engagement we take on.
In the below diagram developed by Clutch, you can see where Curotec is positioned as the number 1 market leader by ranking highest in both ability to deliver and area of focus.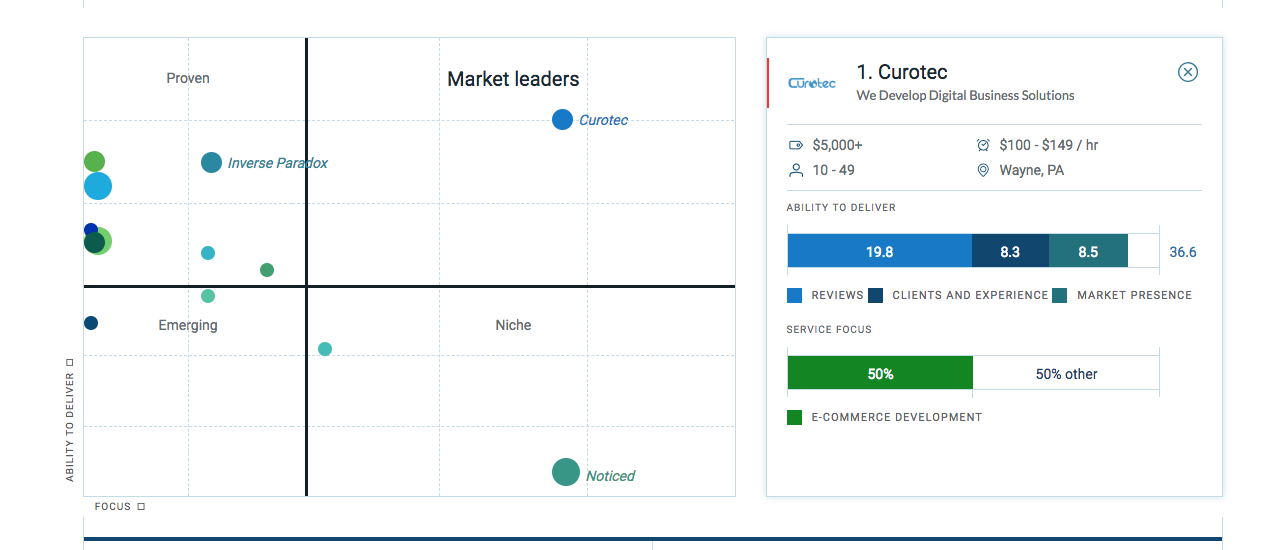 By following the Agile methodology, we go through an extensive process to design, develop, test, deploy, and perfect every project we do. You can rest assured that we will not stop working until your project both meets and exceeds your expectations. At the end of the day, your project deserves only the best and when you work with Curotec you only get the best of the best. Curotec welcomes you to contact us so that we can start working towards making your next business technology initiative a success!